Criminal Investigation Division
---
The Criminal Investigation Division reports directly to the Captain, and is staffed by a Detective Lieutenant, two Detective Sergeants, Detectives, and an evidence custodian. The Division consists of the Detective Bureau and the Identification Bureau.
The Detective Bureau
The Detective Bureau conducts follow-up investigations of crimes and more serious offenses. Detectives assigned to this Bureau also initiate criminal investigations through the use of informants and other investigative tools. They work closely with neighboring police agencies as well as county, state and federal law enforcement agencies.
The following Units are within the Detective Bureau:
Intelligence
Narcotics
Juvenile Det. Dale DeGraw 732-521-0222 Ext. 163
L.E.A.D.
Sex Crimes/Child Abuse
Megan's Law
Bias Crime
Crime Prevention
Internal Affairs
Crime Prevention:
If you are a Monroe Township resident and would like to schedule a detective to present a crime prevention seminar for your local organization or group meeting, write a letter to our Chief of Police and include the date, time, and topics you would like us to cover. If approved, a detective will contact you to arrange the seminar.
The Identification Bureau
The Identification Bureau is responsible for the control, storage, security and disposal of physical evidence and property collected by members of this agency. Detectives assigned to this Bureau conduct crime scene investigations where physical evidence is identified, collected and analyzed. They also conduct background investigations on applicants for firearm's permits and liquor licenses.
The following Units are within the Identification Bureau:
Crime Scene Investigation
Property/Evidence
Firearm's Permits
Liquor License
T.A.C.
Property Retrieval:
You must call between 8:00am and 3:00pm, Monday through Friday, to make an appointment to pick up your items.
You must have valid photo identification.
You need the Incident Number from the original police call.
In some cases additional documentation is required.
Voluntary Surrender:
A resident of Monroe Township may voluntarily surrender any weapon and/or ammunition to the police department with no questions asked. These weapons will be destroyed.
Vehicle Impound:
If your vehicle was impounded by the police due to a traffic violation, it may be released at police headquarters at any time. Please keep in mind that the towing company may be closed after normal business hours.
If your vehicle was impounded because it was used in the commission of a crime, it may be held subject to further investigation.
---
Patrol Division
---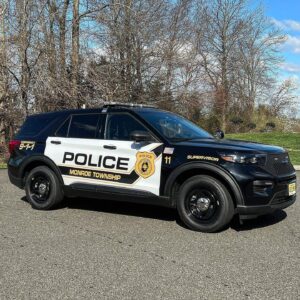 The Monroe Township Police Department Patrol Division is under the Direction of the Captain, and is comprised of Lieutenants, Sergeants, and Patrol Officers. They handle the initial response to 9-1-1 calls and regular calls for police service and they are the most visible police presence in the community. It is the Patrol Officers job to provide primary law enforcement services to the community twenty-four hours a day, seven days a week.
The primary goal of the Monroe Township Police Department is to provide the community with the highest level of police services through highly trained, educated, motivated and professional Police Officers.
Police Communications and civilian Telecommunicators
Traffic Safety
The Monroe Township Police Department Traffic Safety Unit is responsible for the enforcement of New Jersey Motor Vehicle Laws (Title 39), Monroe Township Ordinances, and the investigation of Motor Vehicle Accidents throughout the Township. This includes Serious and Fatal Motor Vehicle Accidents.
The Traffic Safety Unit currently has a Sergeant and two (2) Patrol Officers. All have had extensive training in New Jersey Motor Vehicle Law, Accident Investigation, Uniform Traffic Control Devices, and the installation of Child Safety Seats.
The Traffic Safety Unit utilizes two (2) speed trailers to monitor speeds on the roadways throughout the Township. The trailers are placed at the specific problem location for a period of one (1) week. The trailers are removed, and Radar enforcement is set up to enforce the posted speed limit.
Speeding complaints can be reported the Traffic Safety Unit by calling 732-521-0222.
Bike Patrol
The Monroe Township Police Department utilizes six (6) Mountain Bikes to supplement our traditional patrol enforcement. We currently have seven (7) Patrol Officers that have successfully completed a Bicycle Patrol Training Course. These officers patrol on bicycle in addition to their other responsibilities. While being cost efficient and very effective, the Bicycle Patrol Unit has been proven to be a great success. It allows our officers to patrol areas that are not accessible to standard patrol practices and it allows the officers to interact more with the community.
---
Police Administration Division
---
The Police Administration Division is under the supervision of the Captain and includes one Lieutenant, two Sergeants and one Detective.
The Police Administration Division is responsible for supporting all the members of the Police Department by coordinating and overseeing all of the following functions.
Recruitment of personnel
Both sworn personnel and civilian employees
Background investigations of all potential employees
All sworn and civilian applicants
Development and issuance of policies and procedures
Effecting long term and day to day operations of the department
Purchasing of Equipment
Marked, unmarked and specialty vehicles
Uniforms, weapons and clothing
Computers radios and office supplies
Maintenance service agreements
Departmental computer operations
Mobil Computers
Computer Aided Dispatch
Police Records
Collecting, disseminating, maintaining and controlling Departmental records through automated electronic and hard record keeping
Coordination of Police Officers continual training
Ongoing training and education of departmental personnel
Coordinate National Night out Events
Conduct tours of police station for civilian groups
Building and Grounds Maintenance
---
OEM, PLANNING & TRAINING DIVISION
---
The OEM, Planning & Training Division is under the supervision of the Administration Captain and includes a Lieutenant, a Sergeants and one Detective.
OEM
The main function the Office of Emergency Management (OEM) is to assess the hazards and prepare plans to respond to emergencies and disasters in order to minimize risk to people and property. Other functions of the Township OEM include:
To meet with public safety officials, private companies, private community leaders, school administrators, houses of warship leaders and the public regarding emergency response and recovery plans
To organize emergency response training for staff, volunteers, and other responders
Submit projects for FEMA reimbursement funding for the Township
Attend State and County OEM meetings
Attend FEMA training seminars
Township facilities/building security
Coordination & development of plans for Township events
PLANNING & TRAINING

The responsibilities of the Monroe Twp. Planning and Training Division include:
Initial orientation, department in-service training and field training of newly hired officers, recruits, dispatchers and civilian personnel
Firearms qualifications
Taser training & re-qualifications
Alcotest recertifications
Scheduling for radar training and recertification
Mandatory training required by NJ Attorney General Guidelines (Vehicle Pursuit, Use of Force, Domestic Violence, Bloodborne Pathogens/Hazmat/Right to Know, NJ Learn, etc.)
Researching/scheduling of classes offered outside the department for police officers, dispatchers and civilian personnel
Updating & maintaining thorough and accurate department training records