History of the Monroe Township Police Department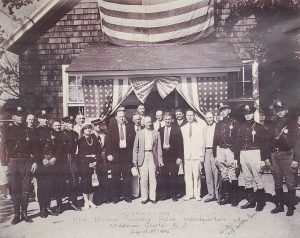 In the early days of Monroe Township, law enforcement was performed by Constables who had both civic and police powers. The earliest recorded Constables were George Bendy and Peter Styker in 1856.
Constables were used until February of 1934, when Monroe Township appointed Philip C. Mangrino as Chief and Anthony Belluscio and Hilman Dancer as Assistant Officers on a one-year trial basis.
On March 16, 1935, after a successful one-year trial, Monroe Township created its first official police department. The newly adopted ordinance specified a department of two patrol officers: a Chief and Assistant Chief. Mangrino continued acting as Chief and Belluscio as Assistant Chief. Both officers' salaries for the first year were $25.00 per month.
It is noted for the year of 1935 that there were 14 raids on stills, various arrests for drunk and disorderly conduct, and various summonses for traffic violations.
In 1936, four additional officers were added to the department; John Piorkowski, Alex Pukatch, Herman Shufelt, and William Walters. The additional patrolman were needed due to the local taverns increasingly attracting large crowds. The newly added officers' salaries were paid by the bar owners.
On August 8, 1936, Monroe Township dedicated its first police station, formerly an old, one room schoolhouse refurbished by the citizens of Monroe. In 1937, the department received its very first patrol car, a 1937 Chevrolet Paddy Wagon which was also used as an ambulance. Pictured above is the first police station as well as the first police car. The police station was located on the corner of Schoolhouse Road and Buckelew Avenue where the Central Fire Department is located now.
At some point between 1938 and 1941, the police department was officially disbanded by the town fathers. During the years that followed, Monroe Township had what was known as a part time police department, consisting of officers commonly known as "Specials" and an "Acting Chief". One long time Special Officer, Stanley Leonard, served part time since the early 1940's. He was appointed Acting Chief in 1960 and continued as such until he resigned his post in June of 1967.
In January of 1968, Monroe Township created for a second time, an official police department. Richard C. Garvey was appointed as the permanent full-time Chief, Charles J. Jones as a full-time Sergeant and Salvatore J. Naimo as a Police Officer. For a brief time in the 1970's, the police station was relocated to Spotswood Englishtown Road. It was then decided that a new building would be constructed at today's current location. The ground breaking for the current police station was on July 27, 1982 and it opened in full capacity in 1983.
After many years of service, Chief Richard C. Garvey retired from the Monroe Township Police Department as the first full-time Chief of Police. Since that time, the Monroe Township Police Department has had 5 total Police Chiefs.
Chief of Police George E. Doerfler badge #20
Chief of Police John J. Kraivec badge #44
Chief of Police Michael Lloyd badge #49
Chief of Police Michael Biennas badge #47 -Current
Currently, the Monroe Township Police Department consists of: 2 Captains, 5 Lieutenants, 12 Sergeants, 10 Detectives, and 38 Police Officers.